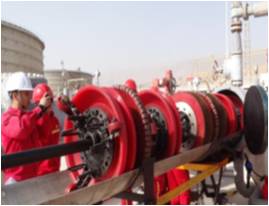 ①We provide the "base + live" type of inspection and evaluation technical services, which covers detection and evaluation of oil drilling tools / equipment, gas leaking inspection of tubing / casing connection thread ,tubing / casing inspection, gage instrumentation test / calibration, and capabilities on detection and evaluation on corrosion and leakof oil, gas transmission pipelines and urban gas transmission and water supply pipelines and other services.

②It is China's leading independent third-party detection integrated oilfield services provider, and China's most powerful gas leaking inspection service provider, With the world's leading gas leaking inspection equipment, It is also the constitutor of industry standard. Anton has nine foreign and three domestic job bases and 35 work teams, and also API, CNAS, DS-1, DNV, CMA and other authoritative certifications, Over 180 of Anton's engineers own aprofessional qualification certificate.

③Technical services are throughout major oil fields, spreading business in more than 10 countries like Kazakhstan, Turkmenistan, Uzbekistan, Chad, Iraq, and Colombia. It is the only professional company in China to have the capacity to detect the total package, and provide drill testing services and gas leaking inspection service for Tarim Oilfield, Tahe Oilfield, spit Hami Oilfield, Southwest oil and Gas Field, Liaohe oilfield and Gas storage,etc. And it is the only supplier in Tarim Basin to have instrument calibration services, and carries out in-service pipeline testing services in the Southwest Oil and Gas Field.